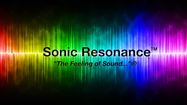 Sonic Resonance ™, LLC was formed in 2011, and internationally trademarked by Lee Carlson (the Water Guy), a standing member of ASCAP.  Sonic, meaning sound waves or vibrations; and Resonance, meaning the quality of a sound that stays loud, clear and deep for a sustained time, the enriching of a musical tone by a supplementary vibration.  The tagline being "The Feeling of Sound..."®  speaks to the focus on sound therapy, brainwave entrainment and healing frequency vibrational nature field recording.  Sonic Resonance™ specializes in water recordings for commercial and consumer use in the highest quality designed for healing, meditation and complete immersion into the locations, whether it be the ocean (even defined and sonically influenced and distinguished by low tide, high tide, phase of the moon, location, etc) brooks, snow run off from high altitude continental divide, waterfalls, cenotes, rain, springs, rivers, etc. utilizing the natural therapeutic frequencies for better health and well being.  This, combined with the latest technologies in brainwave entrainment and frequencies (such as Alpha, Beta, Gamma, Theta, Delta, Epsilon, Lambda) and ancient healing sounds from crystal and antique sacred metal singing bowls, indigenous wind and percussion instruments, synthesizers, even custom created, one of a kind sound generation items.  These are all expertly composed, mixed, performed and produced in a state of the art, in house production studio to maintain sonic integrity and give the experience, as noted in many testimonials, as "the best healing and therapeutic sound ever experienced", both with and without needing headphones.

Lee Carlson also founded Eurasica, Inc back in 2003.  Lee has been in the music and entertainment industry since the mid 90's.  Lee specialized in music and the radio industry, earning the CRMC accreditation from the RAB.  Working in sales and marketing for notable companies such as FOX and Clear Channel.  Lee also had the distinct privilege of working directly with the late great legend, Rich Hawk.  Lee has assisted in discovering new talent and working with Sony records AR, Universal, well as promoting and getting sponsorships for major international rock acts such as Megadeth, Ratt, Jackyl, Ringo Star, LA Guns, Lighthouse, Motley Crue, Candlebox, Oleander, AC/DC and many others.  After spending time in many studios, control rooms and live venues, Lee was inspired to fill a need for better quality sound without the over compression, looping and various other quick fixes used in the standard publishing of music and sound. 
Check us out on Facebook!
Available on CD Baby & all digital platforms